Best Bronze Rain Shower Heads For Remodeling Bathroom this Summer in 2020
Bronze Rain Shower Heads bring that traditional touch to modern bathrooms with their earthy brown color. These shower heads are a must buy if you have a classy taste in your bathroom décor and do not mind shelling out some extra bucks for the luxury they offer. Bronze rain shower heads will last you a lifetime and hence they are worth their initial cost. The long life of these shower heads can be attributed to the bronze material which is an alloy of copper and tin that does not rust easily.
Here we have made a list of top bronze shower heads manufactured by Juno for its customers who love style, tradition and class in their bathrooms.
To know more about this product click here
To know more about this product click here
Juno Large Oil Rubbed Bronze Solid Brass LED Rain Shower Head
Juno has designed this large oil rubbed bronze solid brass LED rainfall head-top for those who love to relax under a shower after a long day's work. The rainfall effect offered by this product is simply amazing and takes you to another world as you end your day. It comes with various settings that let you adjust the waterflow and the LED lights create a dramatic effect by changing colors according to the temperature of water. Juno makes this product in three sizes; 20 x 20, 20 x 40 and 40 x 40. You can choose a size based on your preferences as well as the size of your bathroom. 4 Ceiling mount shower arms included.
Juno LED Temperature Display Bathroom Shower Panel
Here is a revolutionary shower panel from Juno which comes with a LED temperature display with various settings. This LED display bathroom shower panel is an extremely lightweight and durable product which is also corrosion resistant. It is apt for gadget freaks who love buttons and displays and would like to modernize their bathrooms with this ultra modern shower panel. This shower-panel is wall mount which means you will have to fix it on your wall according to your height.
Juno Rain Waterfall Mixer Wall Mounted Bathroom Shower
Here is dazzling product from Juno that offers you the luxury of a rainfall and waterfall bath while helping you save a lot on your water bill. The nozzle fitted in this shower used almost 98% less water than the traditional head top which is a huge amount of saving if you do the math. Made with chrome and oil rubbed bronze, this square shower offers luxurious experience for a lifetime to those who love their time in the bathroom. You can enjoy both the waterfall, as well as the rainfall under this single wall mounted.
Juno Thermostatic 3 Way Black Shower Head
For those of you who would love their shower to change avatars, here is a dramatic black 3 way shower head. It offers 3 different water flows that can be toggled with a button. This luxurious product is corrosion resistant, lightweight and durable and comes with a thermostatic system which lets you mix water according to your temperature preference and makes for an elegant addition to your modern bathroom. Black color is what makes this product very different and classy from its other counterparts. It brings in the much needed mystery to modern bathroom settings.
Juno Antique Brass Bronze Finish Rain Shower Set
Juno Antique Brass Bronze Finish Rain Shower Set is a new design that has bronze finish along with a hand held shower and a tub spout. This classy looking shower set is a good option for individuals looking for an old world charm in their bathroom. It has a water control system that allows for convenient water mixing for cold and hot baths according to your mood. Get under this brass finish shower and end your day with an old world charm and a modern touch.
Juno Dual Handle 8 inch LED Rain Showerhead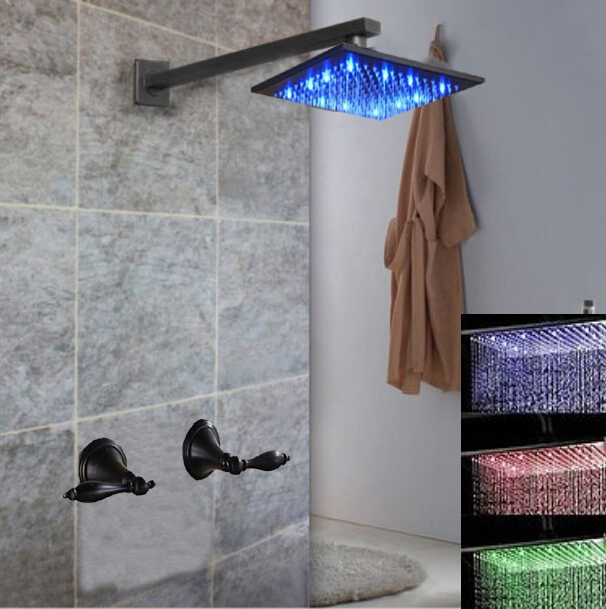 LED rain shower heads have a charm of their own. These shower heads bring in the much needed drama to the disco sessions in the bathroom and let you unwind in style. Juno has manufactured with oil rubbed bronze and in 8 inch size. It makes for an ideal fitting for small bathroom spaces. The LED light changes color according to the water temperature so that you never get burned again. This product is for individuals who like rain-showers but do not have much space. It fits cozily in the corner of the bathroom and jazzes up the ambience with its ultra modern design.
Juno ORB Waterfall Rainfall LED Bathroom Showerhead
This is an extravagant bronze bathroom shower which is an ideal fixture for bathrooms with shower space as well as bathtubs. It is made up of bronze therefore, it is corrosion free, lightweight and durable and offers a lifetime of stupendous showers right inside your home. The waterfall spout of this fitting doubles as a tub spout for those who would want to enjoy a royal bath in a tub. It has a water mixer that helps you control your water temperature and of course, the colorful LED lights that changes color according to the temperature of water. Grab this piece for yours if you have a modest bathroom and you love yourself some modern gizmos.
Choosing the right fixtures has become very difficult because of so many options available. This list itself will confuse you to no end. So, stop, sit down and listen to us. Selecting the right shower head for a bathrooms needs consideration of a number of important aspects like the size of the bathroom, the settings you want in your product and also the most important; your budget. Making a decision on a whim will become a huge inconvenience for you because a small bathroom and a huge shower head means a lot of damage on all sides. So, take your time, measure your bathroom and bring in the most luxurious product to enjoy your daily showers but with care.
All the products are available in other finish also like chrome finish, gold finish and brushed nickel finish. It is up to you which finish color suits your bathroom according to your bathroom theme.
Wall stainless steel kitchen sinks shower doors, pan sink faucets neo angled kitchen sink shower stall faucets bowl sink solid brass kitchen faucet steam shower sink single bowl bathroom and kitchen brushed nickel faucet shower base.