Top 10 Best Oil Rubbed Bronze Shower Head for 2020
The elegance of oil-rubbed bronze is very hard to beat. There is something about the color and the shine that just gets you as soon as you open the bathroom door. Besides the amazing looks, the technology in year 2019 made showers pure bliss and relaxation. Going into the market to find the perfect one for your house without any previous knowledge might be a little mesmerizing. In this article, we have compiled for you the absolute best ten choices to fit all tastes and preferences. Read on and choose the best oil-rubbed bronze shower head for your house. None of our shower heads you can in any local store. All of our productos comes with easy installation manuals.
This is a state of the art, highly technologic shower head made of beautiful oil-rubbed bronze with built-in LED lights that will engage and dim their color according to the water pressure. Also, the color of the LED light that goes on in this ceiling-mounted shower head changes according to water temperature. This shower head is amazing for setting the mood every time you have a bath. To an already great experience with the shower head, this set adds six repositionable jets and a handheld bathing arm. Have the ultimate bathing experience at home with this amazing set.
This self-powered high-tech shower will engage and change the LED colors according to the water temperature. It has a built-in dynamo that spins with water pressure and powers up the LED lights inside the shower. Besides being made of beautiful oil-rubbed bronze and classical round-shaped it can be installed as a wall-mount or a ceiling-mount shower head. The material will last for a lifetime and the flow rate goes up to 2.5GPM; shower time has never been this relaxing before.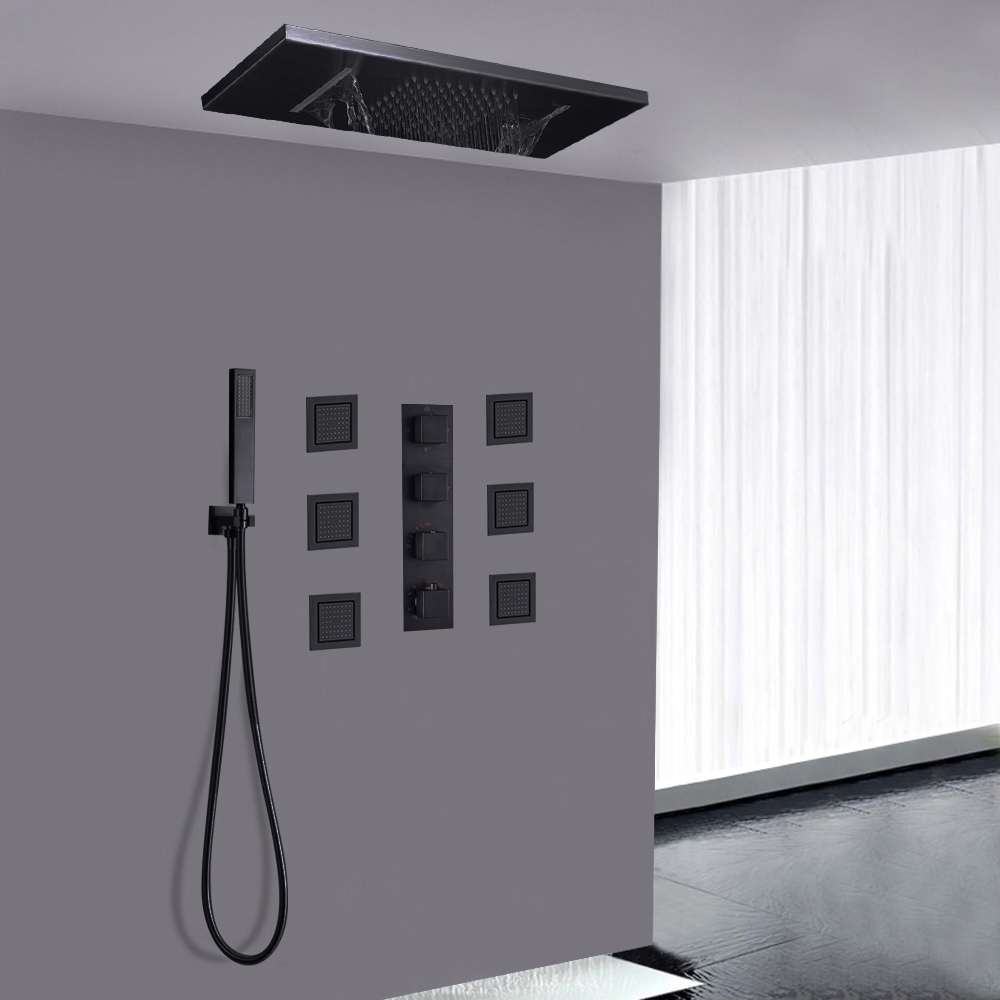 This rectangular-shaped oil rubbed bronze square shower head comes fully equipped to satisfy the needs of the most demanding customers. You can order it with or without LED lights. It is the ultimate all in one solution to make your bath the best moment in the day. The solid brass mixer and the possibility of a shower arm to use manually make it comfortable and also luxurious.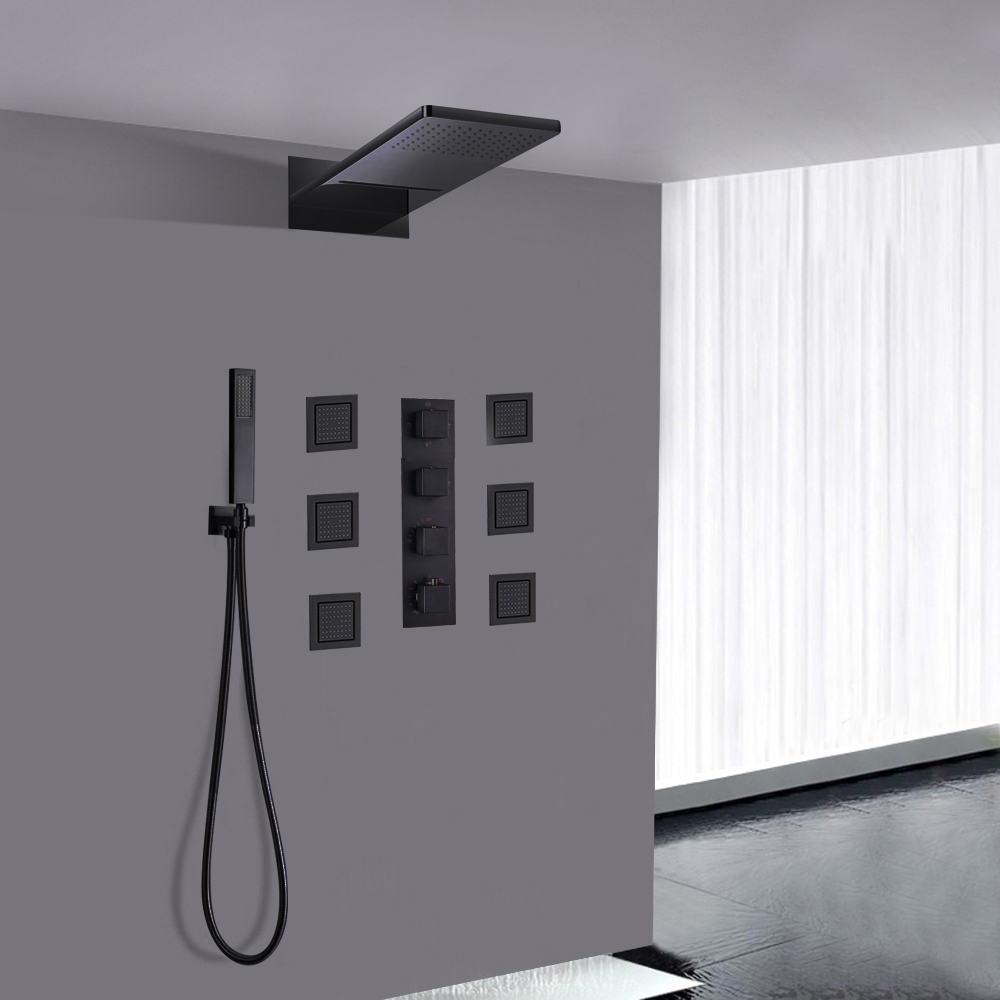 Being the ultimate combination of jets, top and hand-held, this is the best-looking of all the shower systems you´ll find in the market. It comes equipped with dynamo-powered LED lights that change with water temperature so you´ll never get scalded again. With six body jets, this beautiful shower system is the ultimate relaxing experience and also, a gorgeous addition that will enhance your bathroom´s look drastically.
This universal-thread oil-rubbed bronze shower can be installed in virtually any bathroom in the world. With its size and a flow rate of 2.5GMP it is certified to give you a one-of-a-kind experience. Adding to that, the LED technology sets the exact mood for every moment. The looks of this shower head will enhance your bathroom as no other addition you can buy for it.
This is another take on self-powered LED lights on a shower head. With the built-in dynamo, there is no need for batteries or plugs. The interesting advantage of this dual approach to showering is that you can engage them separately or both together for a great experience. The LEDs on each will engage and change the color according to water pressure and temperature. The dark oil-rubbed bronze and the 5GPM capability will make you love your bath moment more than ever.
Are you looking to take your bathroom to the next level and give it the ultimate classy touch while keeping it sober and traditional? This shower system is exactly what you need. The look and feel of oil-rubbed bronze is amazing and the single-faucet and 8" shower head give them that traditional touch that is irresistible. The construction is entirely of solid brass, which will make it last for a lifetime. Install this traditional oil-rubbed bronze shower and enjoy a classy classic.
This amazing, truly powerful shower head is capable of delivering pressure anywhere between 4 to 7.3 GPM. It can be wall or ceiling-mounted and with a universal threading, it will fit as a replacement for any standard shower head. It comes in an amazing oil-rubbed bronze finish and with a hand-held shower head as an extra. The finish is beautiful and the head is superbly powerful. You can order it with or without LED lights.
This shower system combines the best of each world to give you the ultimate relaxing experience. With the purchase of this system you will get the body jets, waterfall, handheld shower head and the regular showering head. The finish in oil-rubber bronze is breathtaking. Besides all these features, this nozzle uses 98% less water than the traditional taps do, so installing it will make you save a lot of money.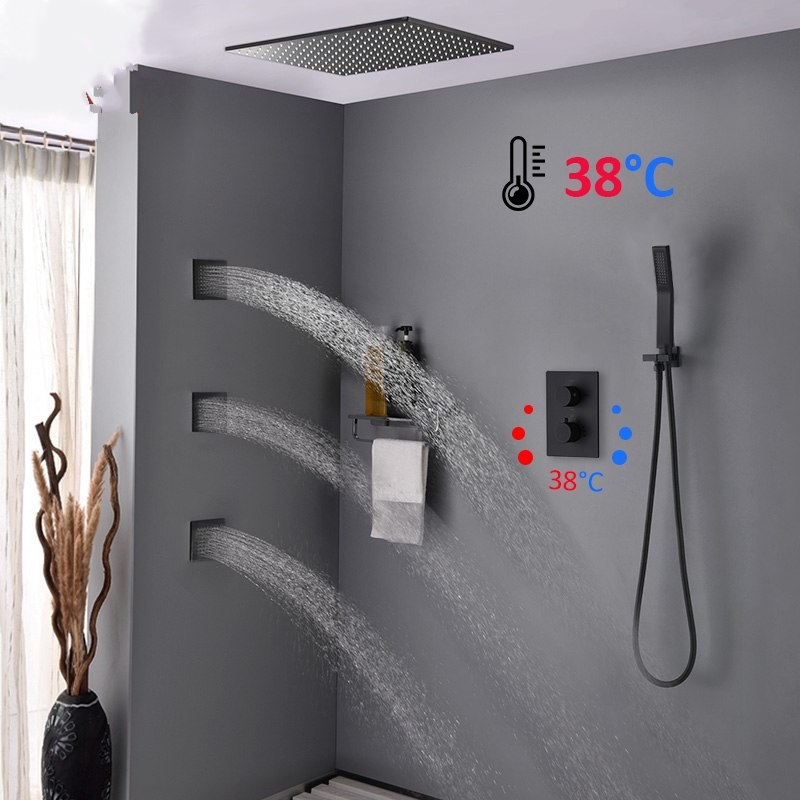 The combination of three wall-mounted jet spa, a digital rainfall shower head and the hand-held showering head make this the ultimate combo for any modern bathroom in the world. Not only the digital mixer is oil-rubbed bronze, but the whole set matches that finish and durability. Install this set at home and be ready for a lifetime of relaxing showers.