Clawfoot Tub Faucets for a Glamorous Bathroom
Standard bathtubs are passé both in commercial and residential buildings. The latest in bathtub design is a clawfoot bathtub.
These are freestanding bathtub with elegant legs that add to the glamour quotient of the bathroom. If you want to create a stylish and unique look to your bathroom, then clawfoot bathtub is the best bet. 
However, a clawfoot tub is incomplete without a matching faucet. Clawfoot tub fauceta add style and charisma to the bathtub and add to the sophisticated look of the bathroom. Unlike the normal faucets, the clawfoot tub faucets are sleek in design with uniquely shaped spouts.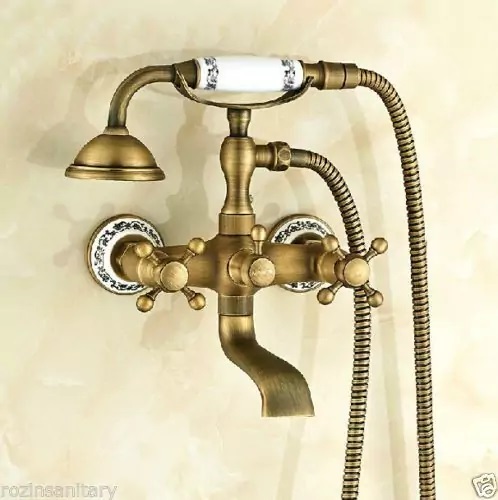 The handles of the faucet are also beautifully designed. Thus, it blends in well with the overall design of the faucet. 
We, at Juno showers, have an extensive collection of clawfoot tub faucets to meet the ever-changing taste of our customers. Our clawfoot tub faucets are sleek and stylish that it is sure to stand out. 
We have a vast collection of clawfoot taps with an antique finish that provides an aged and royal look to the tub. The antique brass finish with its gold undertone is stylish and grand. It provides a completely new dimension to your bathroom decor. The gold and rose-gold finish provide a glamorous look to the bathroom. For a striking look that stands out, we have clawfoot tub faucet in oil rubbed bronze finish. While selecting the finish you should ensure that it blends in well with the design of the bathtub. 
If the foot of the bathtub is designed in an aged bronze finish, then you should go for the faucet in the same finish. If the foot of the bathtub comes in a bold hue, then you should opt for oil rubbed bronze faucet. 
Our clawfoot tub shower faucets are available both in wall-mounted and deck-mounted style. Thus, it can be used not only in clawfoot tubs but also on regular bathtubs. All the faucets come with a hand shower that makes your bathing experience a pleasurable one.
We have faucets with a single handle, double handle, and triple handles. Thus, our customers can select one depending on the overall design of the bathroom and their personal requirements.
Browse our full range of clawfoot tub faucets and turn your bathroom into a glamour room.
antique bathtub for sale, black clawfoot tub faucet, antique clawfoot tub faucets, clawfoot tub for sale