Juno 32 Inch Rectangular Brick Pattern Linear Shower Drain In Stainless Steel Includes Hair Strainer
Using linear drains removes the traditional step over the curb in a traditional tub or shower, so that to have a "barrier free" entrance to the shower. This is an easy transition from the dry area to the wet one now can be in your home. Easy to install is a hallmark of exact sized linear drains. To be more technical, they require the shower floor to be sloped in one direction toward the drain, instead of the center drain requires sloping the floor in four different ways toward the drain. Introducing the Juno 32 Inch Rectangular Linear Shower Drain with Brick Pattern Grate, Brushed 304 Stainless Steel Bathroom Floor Drain,Shower Floor Drain Includes Adjustable Leveling Feet, Hair Strainer.
Stock Status:In Stock



Availability: Usually Ships within 24 Hours
Product Code: JS2401


Product Code:
JS2401
Availability:
Ships in 5-10 Business Days
Shipping Type:
Free Shipping
$269.26
Was:
Regular Price
$361.25
25% Off
Juno 32 Inch Rectangular Brick Pattern Linear Shower Drain In Stainless Steel Includes Hair Strainer
---
Shower Floor Drain Material: AISI 304 Stainless Steel, Made of strong 304 grade Stainless Steel, Brushed Surface, Brushed Steel Finished protect against corrosion & rust. With WATERMARK & CUPC Certified. Deep Slope Design: Shallow 'V' Profile to Aide Flow of Water to Shower Drain Outlet. Enhanced internal slope virtually eliminates water remaining in the channel. Can be used in kitchen, bathroom, garage, basement and toilet ; and also Preventing unpleasant smell, insects and mice from entering the house. Easy Adjustment: Linear drain equipped with adjustable feet on both sides, making the linear drain can easily be adjusted precisely to level to the ground. Threaded Adaptor with rubber O-ring aids adjusting the height of linear drain and securing the linear drain to the flange, leak-proof and compatible with most 2" PVC, ABS, and Cast Iron Drain Base Flanges A removable grate makes it easy to clean. Fits US No-Hub coupling. Linear Shower Drain Size:32" length, 2.75" width, 2" central outlet. 36 L/min High Flow Capability. Supports the channel body during installing. Grate easy to remove and clean.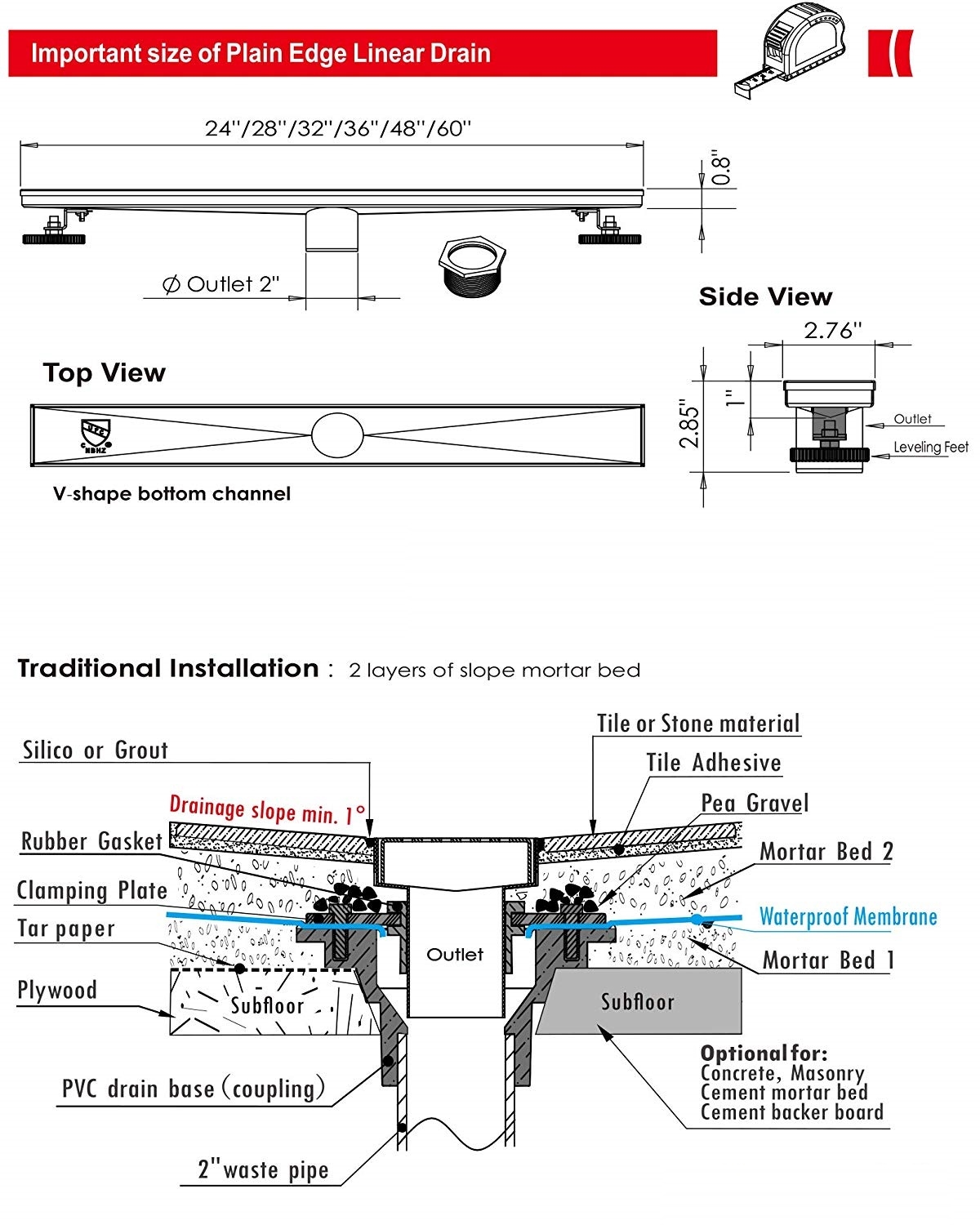 More Information

| | |
| --- | --- |
| SKU | JS2401 |
| Installation Type | Shower Drain |
| Finish Type: | Stainless Steel |
| Product Label Juno | Yes |
We offer special discount on BULK ORDERS.
If you have any bulk order do not just place orders but contact us first for better discount offers.
Frequently Asked Questions