Juno LED Luxury SPA Shower Head with 7 Knobs & Touch Screen Shower Control System
The Juno LED Luxury SPA shower head system is a recessed showerhead with rainfall option. The shower system comes with a hand shower and jet sprays that provide a spa like effect on your body. In addition to rainfall, the shower head also provides waterfall, mist and bubble options. The unique feature of the shower system are the LED lights that can be controlled using a touch screen control system. The 16 color options of the light provide a glamorous look to the bathroom. The shower head is made of stainless steel and hence does not rust or get worn off easily.


Product Code:
JS2395
Availability:
Ships in 5-10 Business Days
Shipping Type:
Free Shipping
$2,478.65
Was:
Regular Price
$2,844.85
13% Off
Juno Luxury LED Spa Shower Head with 7 Knobs & Touch Screen Control Customize Shower Set
Do you want to experience a new look and feel to your shower room? Do you want to make your shower room glamorous and provide a spa feel shower experience? Then the juno luxury SPA LED shower head with 7 knobs & touch screen shower control system is the right choice. This shower system comes with a ceiling mount recessed shower head with rainfall option. Three jet sprays and a hand shower completes the the shower set.  
The shower head comes installed with touch screen control LED light that provides a luxurious look to the bathroom. There are 16 color variations in the light for a bright and vibrant look. In addition to rainfall, the shower head also provides waterfall, mist and bubble options.
---
Juno LED Shower Head Description: 

Type: Bathroom Shower Set 
Product Code: JS2395
Product Brand: Juno Showers
Installation Type: Ceiling Mount
Feature: Rainfall Showerhead
Material: Stainless Steel
Surface Finish: Chrome
Showerhead Finish: Polished
Shower Shape: Rectangular
Shower Size: 17" x 28" 
Fixed Support: Yes
Style: Single Head
Core Material: Ceramic
Light Type: LED Light
Feature: Touch Screen Control LED Light
Minimum Water Pressure: 0.3 MPA
Remote Control: Yes
Color Control: 16 Colors
Water Flow: 9-25L/min
Water Function: Rainfall, Waterfall, Misty, Bubble
Thread Interface: G 1/2 inch
Product Weight: 15.94 lbs
Product Dimension: 17.72in x 29.53in x 8.66 inches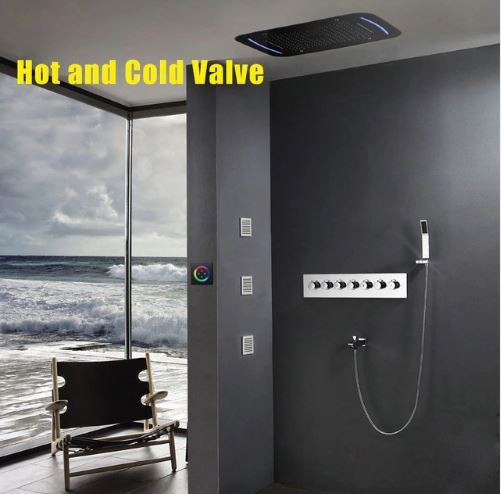 More Information

| | |
| --- | --- |
| SKU | JS2395 |
| Item Sold | 29 |
| Installation Type | Ceiling Mount |
| Finish Type: | Chrome Finish |
| Product Label Juno | Yes |
We offer special discount on BULK ORDERS.
If you have any bulk order do not just place orders but contact us first for better discount offers.
Frequently Asked Questions
Q: Hi, I'm looking for a ceiling mounted shower set for 2 bathrooms. I like your "Luxury spa with 7 controls". My concern is there are a lot of manufacturers with similar things. How can I know if yours is of better quality than others? Are yours also manufactured in China? Also, the ones with integrated LEDs. Are the LEDs replaceable? Much appreciated. thanks, Amir Much appreciated. thanks, Amir
By:Amir Shaikh
A:
Hi, Thanks for showing interest in our products. Ours is manufactured and sold in our own brand name. Yes, the product can be customized if you want in polished chrome finish To place your order you may call us at: Call us: 703-378-1090 Customer Service: 800-422-1360 Thanks:) Happy Shopping!!
By: SS
Q: Hello. I would like to ask do you send to other countries??
By:Dionisis
A:
Hi Thanks for asking and yes we do ship world wide.
By: Sophia