Top 10 Best Rain Shower Heads for 2020
A soothing long shower after a hard day's work is pure bliss given that you have the best shower head. Today bathing is not just about quick showers; many big brands have constantly innovated to create luxurious fittings that make bathing an experience. From the grand rainfall showerheads to temperature controlled, light changing shower heads, there are a plethora of options to explore and add luxury and style to your bathroom. Here, we have compiled a list of best shower heads for the year 2019. Check them out and choose one to make your bathroom your favorite room in the house.
1. Juno Neysa Rainfall Shower Massage Set with Handheld Showers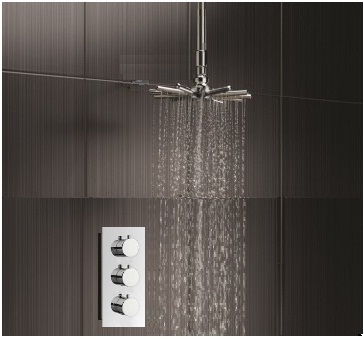 June Neysa is a contemporary shower head is stylish and very different in its design. The unique design of this shower head creates an effect of a cloud burst and combines it with the pulsating flow technique to create a heavenly ambience in the bathroom. It completely envelopes you with water and washes away your stress and body aches. If you have a small bathroom but would love a luxurious bath every day, take home this shower head and make bath time the best time of your day. Ceiling mount shower arm included. Easy installation.
2. Juno Marina Stainless Steel Ceiling Mount Shower Head and Hand Shower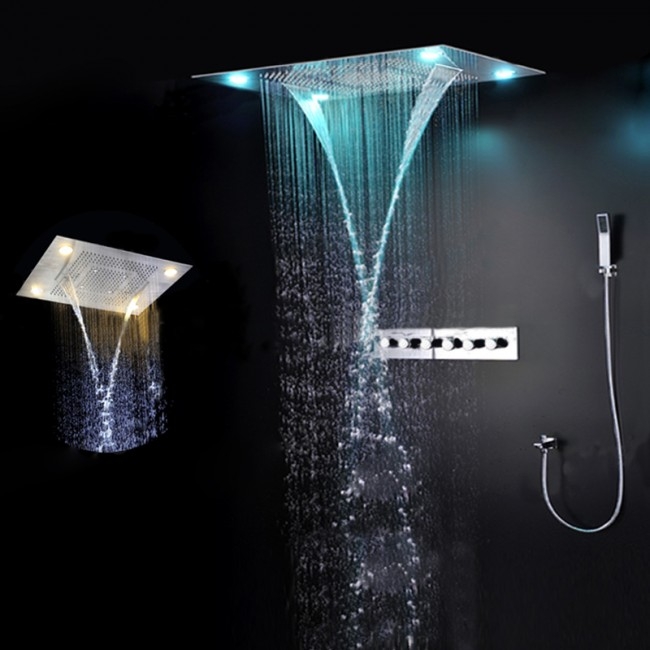 This is a luxurious shower head from Juno that offers out of this world bathing experience. The water flow settings, the LED lights and the temperature settings all together make for a perfect bathing setup that is capable of putting you in a soothing trance. If you like your baths to be royal, you should choose this enthralling stainless-steel shower head from Juno.
3. 2020 Super Luxury 5 Function Recessed Ceiling Mount LED Large Shower Set
Witness a shower head that has luxurious options with 5 water flow settings that are ideal for your different moods. The mist mode of this shower head gives you one of the most unique as well as mesmerizing bathing experience. If you love your baths and would love to dance in the shower while it creates different effects, go for this one.
4. Juno LED Luxury Rain Waterfall Bathroom Shower Head with Hand Shower and Faucet
Explore the amazing features of this luxurious waterfall shower head from Juno, which will take your breath away with its style and functionality. It offers you a three lever handle in the hand shower. It is made up of Chrome with a silver finish and looks as elegant as a piece of art. Install this in your bathroom and dance away all your worries with the amazing light effects and the convenience and flexibility of a hand shower.
5. Juno Wall Mount Rain Color Changing Brass LED Shower Head
Here comes another brilliant product from Juno. This 10-inch wall mount waterfall shower head is meant for you if you have a small shower space but you prefer luxurious baths but at the same time it is available in other sizes like 12 inch and 16" also. It is a smart shower head that changes the LED light color based on water temperature, therefore, you do not have to touch and sense the temperature; you can jump in the shower right away as soon as it shows your favorite color. You can fix this shower on the wall or the ceiling.
6. Juno Marina 25" Wall Mount Color Changing LED Waterfall Rainfall Chrome Finish Shower Head With Handheld Shower
Juno 25 inch Wall Mount Waterfall/Rainfall Shower head is one of the best waterfall showerheads you can add to your beautiful bathroom. This color changing LED showerhead has 7 LED lights that provide dramatic light effects while you enjoy a relaxing shower after a hard day at work. The lights change color with the change in the temperature of the water and use water pressure for power. You should definitely buy this shower head to make bath times wonderful and relaxing.
7. Juno Gold Finish Wall Mounted LED Rain Waterfall Shower Head with Handheld Shower
All you lovers of all things gold, here is a rainfall showerhead in gold finish that will make your bathroom look rich and elegant. This wall mounted showerhead has 3 function water flow setting that makes for an absolutely blissful bathing experience. You have to invest in one of these to bring class to your bathroom and feel real joy as water covers you completely and settles down your stress and anxiety. The color changing LED lights further add to the beauty of this product. You can mount this showerhead on the wall or the ceiling based on your preference.
8. Juno Marina 10" Wall Mount Shower Head Set
If you love luxury and class in everything you do, this is an excellent product to grace your bathroom. Juno Marina 10 inch wall mount shower head exudes grace and brings the much needed luxurious feel to a spacious bath space. It is made up of stainless steel and is fitted with LED lights that change color according to water temperature. So, what are you waiting for, bring home this beautiful waterfall shower head and have spa-like experience right in your bathroom!
9. Juno Black Bronze Rainfall Thermostatic Shower Head with 6 Jet SPA Bathroom Shower
Juno digital temperature display showerhead is one of the most luxurious shower heads from Juno. This jazzy shower system offers you the epitome of luxury through its 6-jet spa shower combined with its orb finish wall mounted faucet. The waterfall effect created by the shower head is perfect to wash away the blues and pep up the mood. You will love this product if you have a big bathroom and a penchant for mesmerizing showers. This shower systems will give you great showering experience.
10. Juno Amore Atomizing Swash & Rainfall LED Shower Head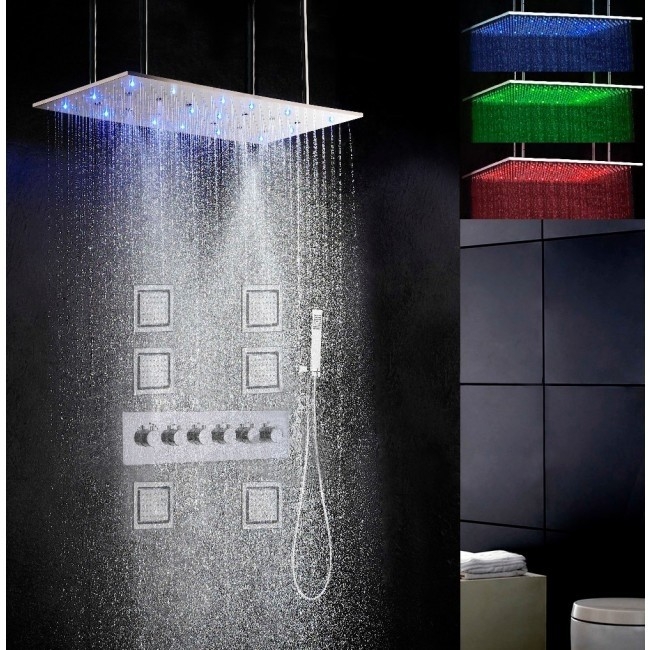 Enjoying the list! Here is another elegant piece for your consideration - the best rainfall LED shower head. This grand shower head that offers luxurious baths through a combination of rainfall effect, body jets and colorful LED lights, is just a click away. This shower head is an ideal fixture for modern bathrooms with comfortable shower space. Consider this product while remodeling your bathroom and bring home luxury, style and an opportunity to enjoy out of this world showers for a lifetime.