Juno 22" Wall Mount LED Dark Oil Rubbed Bronze Rain Shower Head
The LED lights of this Oil Rubbed Bronze LED Rain Shower Head will automatically light up when you start shower and set the mood. They will even change colors automatically as water temperature goes high or low. No need for any batteries, everything is self-powered by a built in dynamo that takes advantage of the water pressure to create the energy to light the bulbs.


Product Code:
JS131ORB
Availability:
Ships in 5-10 Business Days
Shipping Type:
Free Shipping
$547.64
Was:
Regular Price
$637.63
14% Off
Juno Oil Rubbed Bronze LED Rain Shower Head
Features:
Oil rubbed bronze waterfall and Rain Shower head can work separately or combined.
This high tech rain shower head powers the LED lights using a built in hidden dynamo
The lights will automatically turn on when water pressure is turned on
The lights will dim and brighten when you lower and raise the pressure so you can set the perfect mood, water and light
The shower head will automatically change colors according to the temperature of the water so you always know how the water will feel on your skin just by looking at it
Never be scalded again by entering a shower that is just too hot
Modern Stylish Design Completely made to match or stand out from your other bathroom fixtures
High Quality This modern shower head is made out of stainless steel, and finished in dark oil rubbed bronze so its made to last!
The flow rate upto 5 GPM.
Technical Specs:
Material: Solid Brass
Finish: Dark Oil Rubbed Bronze
Style: Contemporary Rain Shower head
Showerhead Height (thickness): 1.1"
Showerhead Width: 9"
Showerhead Length: 22"
shower mixer: included
LED Power Source: Water Flow
LED Color: Available without color changing or with LED colors Blue, Green, Red
Showerhead Style: Contemporary Rain Shower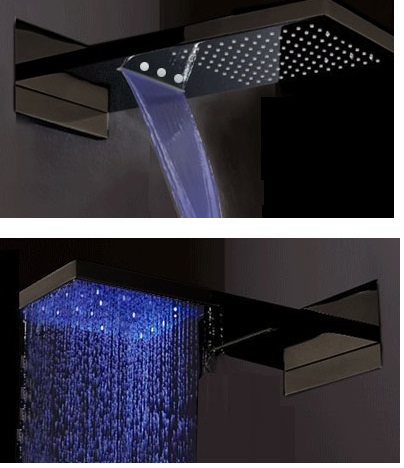 More Information

| | |
| --- | --- |
| SKU | JS131ORB |
| Installation Type | Wall Mount |
| Finish Type: | Oil Rubbed Bronze |
| Product Label Juno | Yes |
| Rating | 100 |
We offer special discount on BULK ORDERS.
If you have any bulk order do not just place orders but contact us first for better discount offers.
Frequently Asked Questions
Q: Does this come with valve and diverter or is it only the shower head?
By:Erica Mahan
A:
Hello,
Thank you for showing interest in our products,
It is only a shower head, You to need to purchase the valves separately.
Please let me know if you have any other queries,
Thanks,
By: Linda
Q: Hello, what is the recommended mounting height and will it plumb into an existing 1/2" wall mount plumbing???
By:Ken Combs
A:
Hello,
Thank you for showing interest in our products, It is based up on the previous shower head and any shower head will go good between 16" to 24".
Thanks,
By: Linda
Q: Shower head has two inlets How do you supply water to them? You have no instructionsin the box You have no brackets etc
By:Leslie kent
A:
Hello,
We will help you once you ordered the product, We have clear installation instructions for fixing this shower head. Please go through the below link
http://wikihomeimprovements.com/index.php/2016/12/27/waterfall-rain-led-shower-head/
Please call us for more detail ( contact number : 703-573-0395 )
Thanks,
By: Linda
Q: Is there any way to get this shower head to increase to 26"? What kind of extender could be used?
By:Cindy
A:
Hello,
We have bigger size shower heads, Please go through the below products link and let me know which one you like it.
https://www.junoshowers.com/catalogsearch/result/?q=24%22
https://www.junoshowers.com/catalogsearch/result/?q=31%22
Thanks,
By: Linda
Q: Do i need to use your transfer valve? I just ordered a 3 way diverter valve
By:Patrick Ryskey
A:
Hello,
It is enough it will work fine without any issues.
Thanks,
By: Linda
Q: I am interested in a shower system similar to https://www.junoshowers.com/22-dark-oil-rubbed-bronze-rain-waterfall-wall-mount-led-shower-head.html but I am looking for a model with a brushed nickel finish and the knobs included. I would like a model that has the dual rain and waterfall functions. Please advise.
By:Lindsay Gietzen
A:
Hello, Thank you for your interest in our product line. Please contact to our product specialist team at: 703-378-1090 Toll Free: 800-422-1360 Meanwhile you can check these products which is mostly you may like it. https://www.junoshowers.com/5-function-ceiling-mount-led-large-shower-set.html https://www.junoshowers.com/shower-heads/waterfall-shower-heads.html
By: Parwez A.